It is starting to be fun to own gold stocks once again. On Friday the XAU and HUI broke out of a resistance downtrend line that goes back to April on high volume. Gold stocks are showing the classic signs of putting on a key breakout. For over a year now they have been trapped in a long consolidation phase, with 125 and 150 marking respective support and resistance. Now another test of the 150 level within the next few weeks appears to be imminent. If the XAU can decisively rally through 150 then a new bull run in gold stocks will finally begin. Let me show you this on the charts.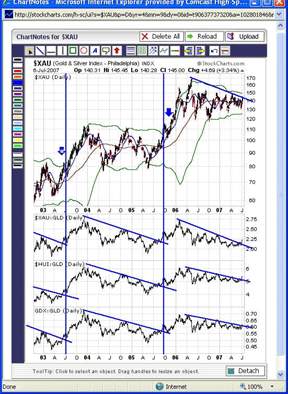 In the past five years we have seen the XAU and HUI go through two long periods of consolidation that ended with powerful new bull runs. During both periods of consolidation the XAU traded between its 200-day upper and lower bollinger bands, just like it has done for over the past year. Once the XAU closed above its upper band and stayed above it for over a week a new bull run began. The XAU appears to be headed towards this upper band once again. A close above it on a weekly chart will mark the beginning of a new bull run.
These bull runs actually started when the XAU/gld, HUI/gld, and GDX/gld ratios broke out of ten month plus downtrend resistance lines. When these ratios are declining it means that gold is outperforming the gold stocks. Gold stocks tend to lead the action in the metal so the trend of this ratio is a powerful indicator of the overall direction of the gold market. This ratio has been in a decline for over a year, but on Friday all three of the downtrend lines for these ratios were broken. This is an extremely powerful buy signal, which indicates that the trend is up.
Going forward I expect to see the XAU and HUI to quickly attack their 200-day bollinger bands. They will then pause somewhere around them, likely a bit above them, to digest the recent gains. If they hold up at this level and continue higher gold stocks will be poised to rally for the rest of the year.
We've been waiting for some strength to come back into the gold market. Recent weakness early last month even prompted me to go to temporarily go to cash in fear of a breakdown and other prominent gold writers also gave warning signs. We haven't broken out yet. The ultimate buy signal of a rally above the 200-day bollinger band hasn't come yet. But last week's rally in gold stocks certainly puts the train right back on the tracks. I bought last week and plan on buying more as the weeks go on.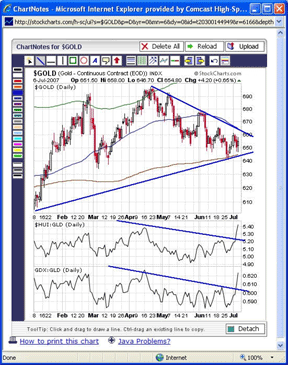 While gold stocks broke their April downtrend resistance lines last week gold hasn't done so yet. A close above 660 on the metal will cause the metal to breakout and follow last week's rally in gold stocks. It would be nothing for gold to rally back up to 700 and if gold stocks rally at the same rate as the metal than the XAU will rally up to 154. So a move above 150 for the XAU in the next few weeks is certainly plausible.
Mike Swanson,
Wall Street Window