Several weeks ago I sold my gold stocks and went into cash in fear that gold stocks were going to break down and head down towards their September 2006 lows. There were several danger signs. Gold stocks have been among the worst performing sectors in the market so far this year and there is a high danger that if that continues they would fall very hard in any general market correction.
Secondly, the XAU and HUI repeatedly tested intermediate-term support over the past few weeks and finally broke through it last week. In the past such actions brought large corrections in both gold stock indices, however, this time they quickly bounced back.
Gold stocks are currently bouncing back up to downtrend resistance lines that have held them down since March. If this resistance holds (140 on the XAU, 340 for the HUI, and 39.25 on the GDX) over the next two to three weeks the gold stocks will then turn back down and fall in a deeper correction that would likely take the XAU down to the 125 area. However, they could easily breakout for a bullish resolution within this time period too. There has been heavy covering of short positions by commercial traders to the point where their position is small enough that it has marked the beginning of large moves in gold over the past five years. This is an exciting development.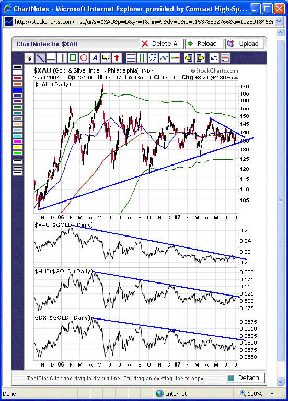 If gold stocks breakout it will be very important to watch the character of the rally. Gold stocks tend to outperform gold during bull runs. For over the past year gold stocks have lagged both the broad market and gold, as the latter fact is visible in the chart above by looking at the declining XAU/gold, HUI/gold, and GDX/gold ratios.
As you can see though all of these ratios are near long-term resistance downtrend lines. If gold stocks were to breakout and outperform the metal for several weeks then these downtrends would be broken. Major resistance on the XAU is at the 150 area, so I would expect a power breakout to take it to or slightly above this level. Then I would expect to see some consolidation for several weeks before any move higher. A breakout in which gold stocks outperform the metal and the broad market would be a sign that a new bull run is beginning.
However, if a breakout comes and the XAU and HUI simply rallies at the same pace as the metal then the 150 resistance area would likely hold and we would then see the XAU pull back into its trading range that it has been locked in for the past year.
We also need to the gold stocks outperform the rest of the market in order to be able to say that they are in a bull run. This is something that they have not been doing at all, but I expect them to do so within the next six months - either by making a power breakout over the next few weeks or by holding up at some point during a broad stock market decline later this year. We'll have to watch the action very carefully over the next few weeks. The bulls are being a given an opportunity to take the ball and run with it. Let's see if they can finally do it.
Mike Swanson,
Wall Street Window