We are pleased to present Ron Miller's Portfolio Action Update, a periodic update of his technical analysis viewpoint of the financial market environment and the current portfolio management posture for his precious metals portfolio strategies. Ron Miller and Martin Truax, Managing Directors at Morgan Keegan & Co., lead the Investment Planning & Management Group (IPMG) in Atlanta . Martin and Ron have worked together as a team since 1973. They moved their group from Salomon Smith Barney, where they had been for 29 years, to Morgan Keegan at the beginning of 2001. They focus on portfolio management strategies that have investment risk profiles ranging from conservative to aggressive and with investment goals of income and/or growth.
The table below includes both Short Term (S - T) and Intermediate Term (I - T) Rating results of our technical analysis of the price direction for the Styles and Sectors we follow. The intention is to give you insight into the time frames that are involved in our portfolio management process. Short Term ratings capture more of the wiggles in the market while the Intermediate Term ratings capture more of the trending aspects of the market. If we are in a period where the market is in a trading range with little trend direction, the Short Term ratings are more useful. On the other hand, if the market is in a longer term trending mode, we put more emphasis on the Intermediate Term Rating results. Note that signals can change in between reporting periods which may be confusing at times. For example, a Green light may have changed to Red and back to Green since the last report. The Rating Table would still be Green but the signal date would have changed from that shown on the prevous report.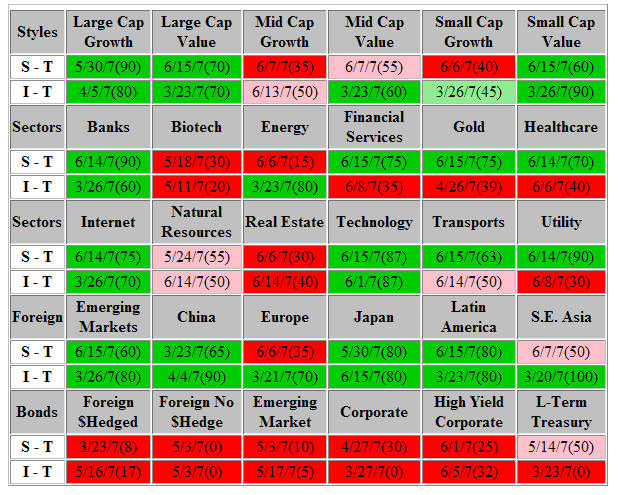 Natural Resource Plus - NRP: No changes last week. The Precious Metals Mining sector appeared to bottom on 6/12/07 and generated a renewed Short Term Green light on Friday (6/15/07). The XAU Gold mining index closed strongly Friday and above its 200 day ma. This is a positive sign, but it would be enhanced even more if this index could move sharply above the June 1 high. The Intermediate Term light remains on Red, so some additional backing and filling would not be a surprise over the near term. The Natural Resource sector, on our Rating Table, remains on a double Neutral reading. The Energy sector has performed well this year but currently has a Short Term Red light. For now, we are maintaining our moderate defensive allocation. The current allocations are 8% Gold Bullion, 17% Precious Metals Mining, 18% Energy Exploration and Production and 20% Natural Resources. Net market exposure is currently 63% with Money Market Reserves at about 37%.
Gold Portfolio - GLD:
We did not take any new action last week. However, the XAU Gold Mining index bounced sharply off of the June 12 low and closed strongly Friday and above its 200 day moving average. However, the Intermediate Term light remains on Red, so some additional basing would not be a surprise. The Dollar was stronger for most of the week but backed off sharply on Friday. That, most likely, was the reason for the good action for the Gold sector on Friday. Last week the XAU was up 3.97% while Gold bullion was only up 0.98%. Last week I pointed out that during the resent decline that the XAU was showing positive relative strength compared to gold bullion. That implied that the XAU would likely outperform during a rally phase and that is what happened last week.
Both Gold bullion and the XAU Gold Mining index closed Friday above their respective 200 day moving averages. However, since last summer, the XAU has been trading back and forth across the 200 day ma as it has flatten out. Obviously this has been a frustrating period for both bull and bear gold participants. Eventually, this trading range will get resolved. We note that the trading range has been narrowing in recent months, so we may be approaching a resolution of this very broad consolidation. We remain with a guarded outlook and are prepared to increase our defensive posture if needbe or move to a full bullish position on a positive resolution of the trading range. The current allocation is a 15% gold bullion position and 59% precious metals mining securities, which includes a 19% specific silver mining allocation. Money Market reserves are about 26%..
Tactical Asset Allocation Style & Sector Signals:
Ratings 60% and Above are a Green Light
Ratings 40% and Below are a Red Light
Ratings 41% to 59% are Neutral
Light Green indicates going from Green to Neutral since last Signal Date
Pink indicates going from Red to Neutral since last Signal Date
This is a reduced version of Ron Miller's Tactical Asset Allocation Style & Sector Signals table. Ron's portfolio management process includes the technical analysis of over 400 mutual funds that have been selected to represent forty four different styles and sectors that are tracked daily for both Short Term and Intermediate Term direction signals. These include the 9 Morningstar portfolio management style boxes plus 16 equity sectors, 10 international styles/sectors and 9 bond sectors. Ratings are based on the percentage of securities followed in each category that are on buy signals. Short Term (S - T) signals are based on daily price data and may be different and change more frequently than the Intermediate Term (I - T) signals that are based on price action for a trailing 5 day period. These ratings are subject to change at any time and obviously their accuracy is not guaranteed. Individual securities may perform differently from these signals. These direction signals are a useful tool in the portfolio management process but are not the sole determinate of actual portfolio style or sector weightings. They should not be interpreted as a buy or sell recommendation for any specific financial securities and do not reflect positions of Morgan Keegan. Market data used in this analysis is believed to be from reliable sources but its accuracy can not be guaranteed. Past performance is not indicative of future results.

Portfolio Action Update Explanation: I try to confine my comments to a discussion of what recent action has occurred in these portfolios and my current technical analysis posture. In general, my portfolio management approach is to determine current market conditions through technical analysis and to position the various portfolios strategies to participate in the current environment. Although I usually have an opinion of the future direction of the market, I donít rely heavily on my opinion in the portfolio management process. Neither opinions, technical analysis or fundamental security analysis produce perfect results. There is always a degree of risk present.

These comments will usually be written on the Weekend. However, a few days may transpire from when they are written and when they are posted on the web site. Obviously, the technical analysis signals and portfolio positions could have changed in that timeframe. Therefore, this technical information and related comments should only be read from a historical perspective, and may not reflect what the current analysis and portfolio positions actually are when you read this update. You can call us for the most current update if you wish.

Although the Technical Analysis Ratings illustrated in the table below are a very useful tool in our portfolio management process, these ratings are not the sole determinate of the asset allocation positions held in our various portfolio management strategies. This information is not intended to be a solicitation of a buy or sell of any financial security. The opinions expressed herein are my own and do not reflect the position of Morgan Keegan & Co., Inc. Past performance is not a guarantee of future results.